depth/depth.html 2015-06-02
Depth clues
This page shows a number of depth cues in 3d rendering separately. The images may seem weird since a realistic image contains all cues.
Size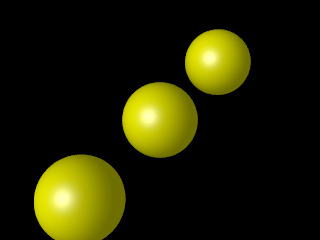 Size is one of the two strong clues.
Obscurance
Obscurance is the second strong clue.
Focus
With 3D glasses or a video-wall the participant will focus at infinity and expect nearer objects to be out of focus. On a desktop monitor the opposite is the case.
Fog
Fog makes objects further away less saturated.
Disparity
Objects nearer to the viewer have a larger disparity
Light
These images show the use of three depth clues. Light angle, shadow and light intensity.
Combined
Combining all clues but fog and disparity
All of the above